GUILLAUME NERY: FREEDIVING WORLD CHAMPION, EXPLORER, WRITER, SPEAKER.
"In order to keep my energy levels high as I dive deeper and deeper, I strive to cultivate my personal universe, my own private world in which I can take refuge to find strength and inspiration.
When I'm not deep diving, I spend my days high up in the mountains surrounding Nice, which offer me infinite energy.
I owe this love for big open spaces to my parents, who equally helped me develop a taste for personal effort and passed their love for the mountains on to me.
I love travelling around the world, discovering new and faraway countries. My thirst for travel comes from my childhood love for Tintin comics. I didn't have the opportunity to travel much when I was a child, so freediving became an opportunity to discover hidden corners of our planet.
When my body is still, I let my mind wander… and very often think of the immensity of the Universe, which only reminds me how small and insignificant we are in this big maze. 
I also have a passion for photography, and enjoy capturing memories". GUILLAUME NERY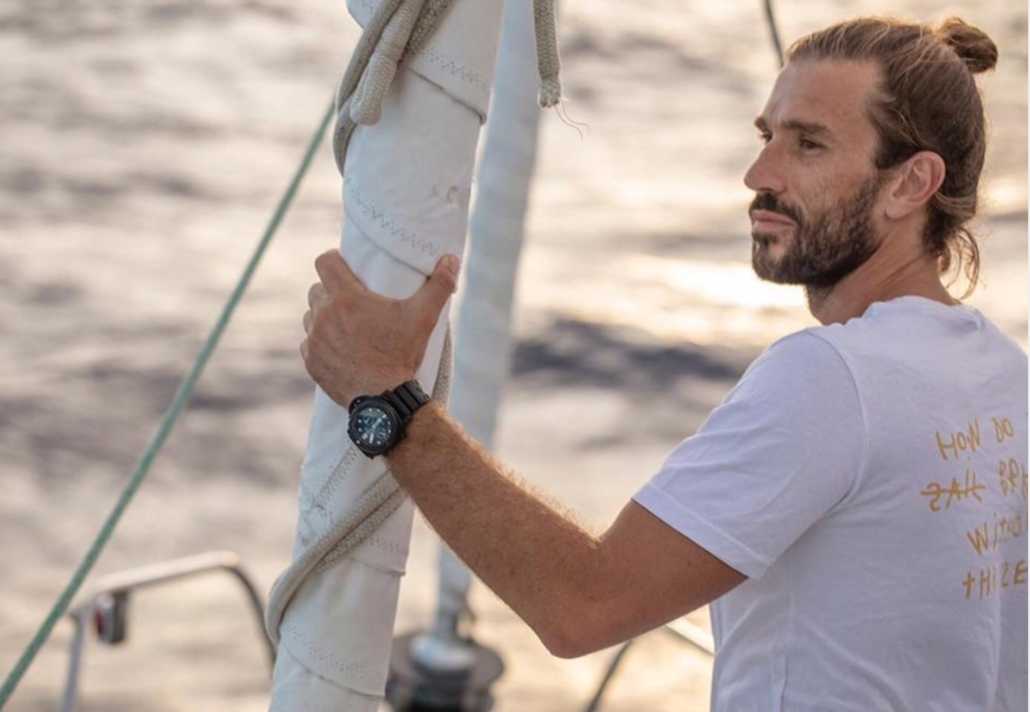 Guillaume Nery grew up on the Mediterranean coast, in the city of Nice.
As a child, he used to go diving every summer with his mask and fins, accompanied by his father, to discover the wonders of the underwater world.
At the age of 14, he and a friend took up a challenge: to hold their breath for as long as possible. This simple game became an obsession and led him to one day meet 
Claude Chapuis, the founder AIDA
 (International Association for the Development of Apnea), who became his mentor.
Guillaume devoted all his time and energy to his passion. He made huge progress when 
working alongside Loïc Leferme (5 times No-Limits world record holder) both a role model and close friend.
In 2002, he became the youngest freediving record holder, by diving to a depth of -87m – using the propulsion of his fins alone. That marked the beginning of a great adventure. Guillaume then beat the World record 3 times, became the World Team Champion in 2008 and the Individual World champion in Greece in 2011, diving down to -117m.
Today, he dives to -125m.
On top of the many competitions and world records, Guillaume teaches freediving at CIPA association (in Nice), organizes deep-diving workshops, conducts seminars and travels the world in search of new freediving spots.
However, it was thanks to FREEFALL, the film he produced in 2010 with his partner Julie Gautier, that Guillaume's career truly took off.
One scene shows Guillaume walking on the ocean floor, going towards an underwater sinkhole : Dean's Blue Hole (Bahamas), the deepest blue hole in the world. The camera follows the world-class freediver as he jumps into the emptiness of the blue hole and starts to freefall.
It only took a couple of days for these images to be seen all over the world, revealing a new, artistic and poetic side of freediving.
Since then, several other movie projects have been released, including NARCOSE and more recently, Ocean Gravity. Their website is dedicated to all their creations: 
www.lesfilmsengloutis.com
Guillaume considers freediving like a form of art, and has turned this discipline into a way of life, combining aesthetic appeal and high performance.